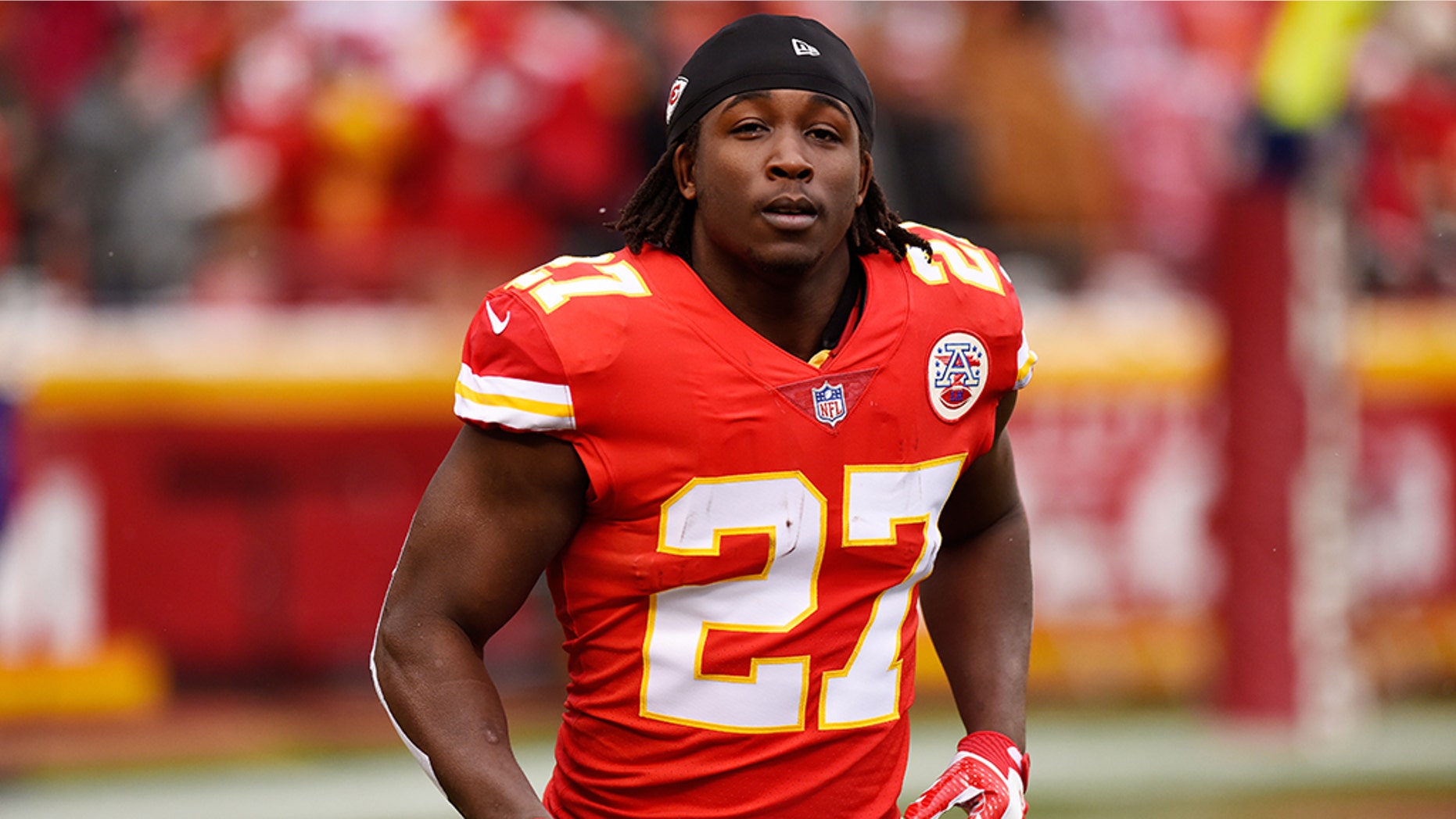 The Kansas City Chiefs have released running back Kareem Hunt after a video surfaced Friday showing the star player pushing and kicking a woman during an altercation in an Ohio hotel back in February
The video, first obtained by TMZ Sports, shows Hunt arguing with the 19-year-old woman at the Metropolitan in Cleveland about  3:22 a.m.on Feb. 10.
Hunt approaches the woman as he says something, before he's seen shoving her. An unidentified male steps in, and the woman proceeds to hit Hunt in the face.
More of the NFL player's friends step in as he becomes more enraged. He shoves another male into the woman, who then falls down and appears to grab her head.
As she is crouched on the floor, the footage shows, Hunt comes over and kicks her.
In a statement, the team said it was releasing Hunt after finding that he had not been "truthful" during the NFL's investigation: "Earlier this year, we were made aware of an incident involving running back Kareem Hunt. At that time, the National Football League and law enforcement initiated investigations into the issue. As part of our internal discussions with Kareem, several members of our management team spoke directly to him. Kareem was not truthful in those discussions. The video released today confirms that fact. We are releasing Kareem immediately."
Hunt was excused from practice at the facility initially when the video was released. The NFL later announced that he had been placed on the Reserve/Commissioner Exempt List, which meant "he may not practice, play or attend games."
"The NFL's investigation, which began immediately following the incident in February, will include a review of the new information that was made public today," the league said in its own statement.
According to reports, neither the NFL nor the Chiefs had seen the video before Friday; the hotel would only cooperate with law enforcement and police would not release the tape.
Police made no arrests initially because officers say they were unable to determine if a crime had been committed, TMZ reported, citing police reports.
The woman, reportedly a student at Kent State, told authorities at the time that the argument began when she refused to hook up with one of Hunt's friends, the New York Post reported.
But a female friend of Hunt's claimed that the woman was acting belligerently and struck her.
Chiefs owner Clark Hunt said in August that he believed the running back "learned some lessons" prior to this season's start.
"Kareem is a young man, second year in the league, obviously had a very big year on the field last year," he said in speaking of the February incident. "I'm sure he learned some lessons this off-season and hopefully won't be in those kind of situations in the future."
Hunt led the league last year as a rookie with 1,327 yards and eight touchdowns.