Officials with a Wisconsin school district have admitted free-speech rights would make it difficult to discipline the high school students who appeared to be delivering Nazi salutes in a photo.
The controversial image that went viral earlier this month was taken last spring outside the Sauk County Courthouse in Baraboo, Wisconsin. The image was posted on a Twitter account earlier this month, making the rounds across the internet.
PHOTOGRAPHER SAYS HE TOLD STUDENTS TO 'WAVE GOODBYE' IN CONTROVERSIAL PHOTO: REPORT
The image, which included about 60 boys, drew widespread condemnation because of the appearance that some of the students are giving a Nazi salute.
Peter Gust, the photographer who took the picture, said the image was "taken out of context" and was as "innocent as boys and girls going to prom." He said he told the boys to "wave goodbye" before heading off to their prom.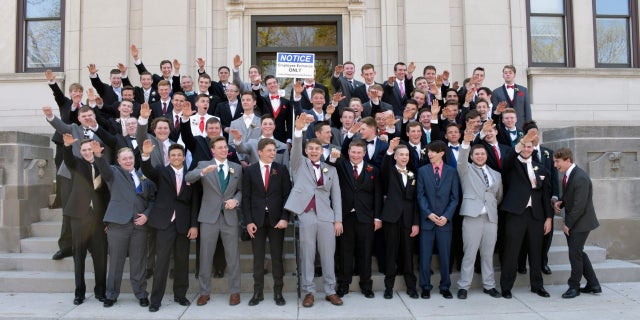 The photo received condemnation from social media users and even caught the attention of the Auschwitz-Birkenau Memorial and Museum which blasted the students and district over the image.
"If @barabooSD wishes to know more about what can be the extreme result of normalization of hatred…please see some online lessons dedicated to the history of Auschwitz," the museum tweeted.
BARABOO SCHOOL DISTRICT WEIGHING LEGAL ACTION AFTER STUDENTS PURPORTEDLY PHOTOGRAPHED DOING NAZI SALUTE
The school district said it would investigate the incident and what led to the students making the gesture. The State Journal reported that Baraboo Superintendent Lori Mueller said in a letter to parents Wednesday that officials cannot know the "intentions in the hearts" of those involved.
She also said the district isn't in a position to punish the students because they are protected by the First Amendment. Her letter said part of the district's investigation was completed.
Fox News' Amy Lieu and the Associated Press contributed to this report.