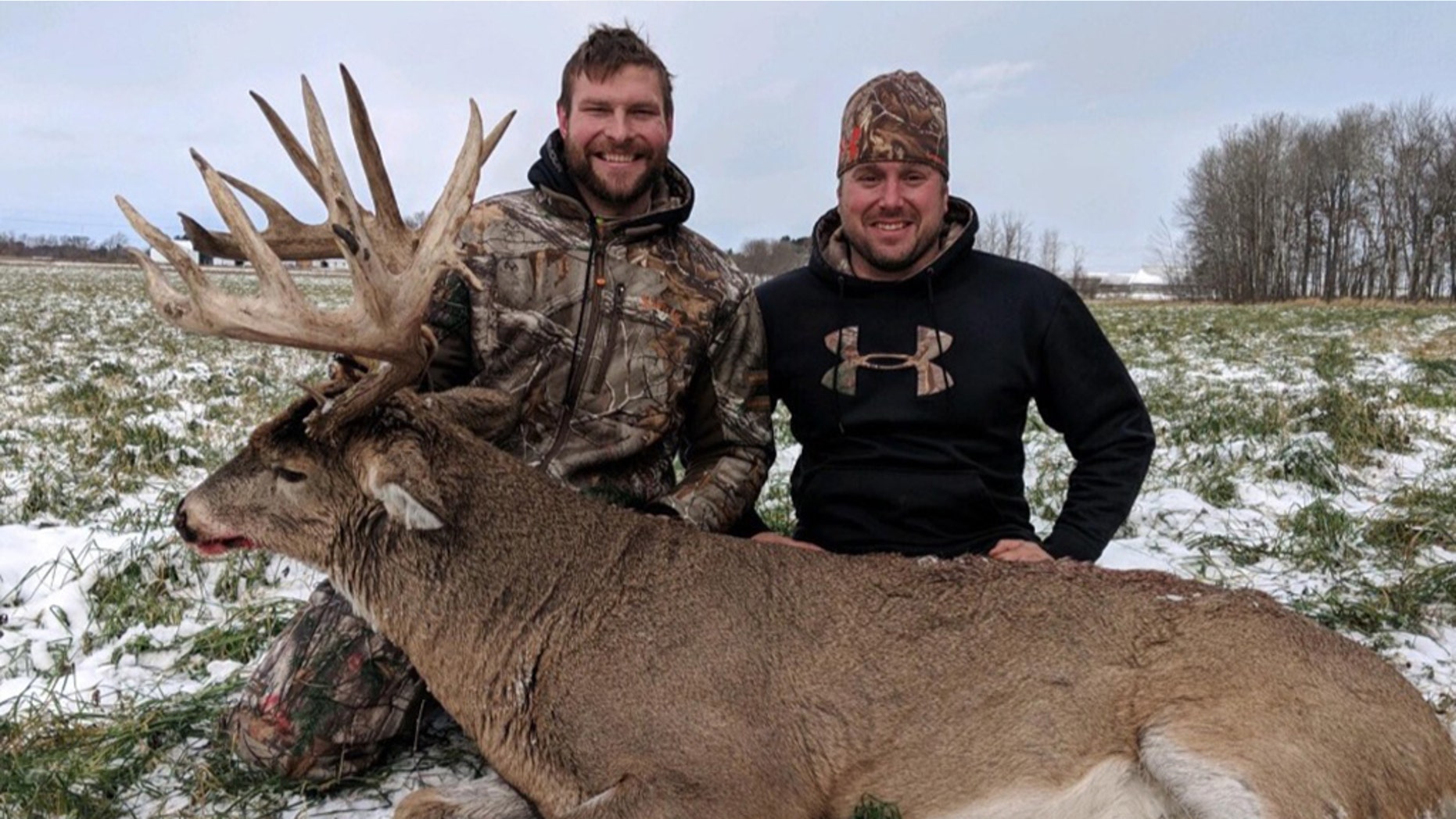 A Wisconsin man says his "conquest is finally done" after he bagged a 19-point buck over the weekend.
Joshua Gawrysiak, of Eau Claire, told Fox News he hunted the buck for five years before finally shooting it with a Matthews Compound Bow in Chippewa Falls on Saturday morning.
"I cannot believe this. It just amazes me," the Wisconsin man said in a Facebook live video he posted the same day, which had more than 10,000 views and 600 reactions as of Thursday afternoon.
"This is the buck I've been hunting for so long. Here he is, I can hold him," Gawrysiak added.
HUNTER SETTING UP ILLEGAL DEER BLIND SHOT APPROACHING DEPUTY: TEXAS COPS
The 32-year-old shot the buck after it followed a doe near the deer stand where Gawrysiak was waiting, which was roughly 20 yards away, he told the Leader-Telegram. The buck ran off after he was struck but collapsed shortly after.
"I patterned him. I sat in that stand, knowing he'd be there," he said, adding he's been actively tracking the buck consistently over the past two weeks.
The deer, which the Leader-Telegram reported was possibly five or six years of age, has "dodged cars, bullets, arrows and poachers" for more than seven years, Gawrysiak wrote in a GoFundMe he created to purchase an estimated $3,000 full body mount for the buck, which is a "legend."
He plans to mount the buck in a public place — possibly in sporting goods store Scheels, WEAU reported — "so the hundreds of people who have seen this deer, have pictures of this deer and have hunted this deer will be able to come and view him," he wrote.
"It's bittersweet. The journey is over."

— Joshua Gawrysiak
BIG-GAME HUNTERS DEFEND KILLS, SAY THEY WON'T BACK DOWN AFTER RECEIVING BACKLASH FOR POSTING PHOTOS
"It's bittersweet," Gawrysiak told Fox News of the kill. "The journey is over."
"Watching this deer grow each year for the past five seasons was special and it's sad I won't be able to watch him grow anymore," he added.