A New Jersey couple and a homeless man who were at the center of a heartwarming GoFundMe tale were hit with charges Wednesday after a prosecutor claimed the whole story was a hoax.
"The entire campaign was predicated on a lie," Burlington County prosecutor Scott Coffina said, according to The Associated Press. "It was fictitious and illegal and there are consequences."
The story originated in November 2017 when Johnny Bobbitt, a homeless military veteran, was reported to have given his last $20 to Kate McClure, a stranded motorist on the side of the road in Philadelphia.
HOMELESS MAN, COUPLE ALLEGEDLY CONSPIRED TO DECEIVE GOFUNDME FUNDS: REPORT
In an effort to thank Bobbitt for the kind gesture, McClure and her boyfriend, Mark D'Amico, created a GoFundMe account for him, which ultimately raised $400,000 from more than 14,000 people.
However, the series of events were allegedly not true.
"Kate McClure did not run out of gas on an I-95 off-ramp, and Johnny Bobbitt didn't spend his last $20 to help her," the prosecutor's office claimed in a probable cause statement. "Rather, D'Amico, McClure and Bobbitt conspired to invent and/or promulgate this story in order to deceive potential donors to the 'Paying it Forward' campaign by toying with their emotions to encourage them to contribute to a homeless veteran who purportedly had done a good deed."
Evidence in the investigation showed that the couple "had known Bobbitt for at least a month" before the GoFundMe page was created, "as they had met him on their frequent trips to a local gambling casino," prosecutors said.
Shortly after the GoFundMe page was established for Bobbitt, McClure confessed to her friend via text "that the 'gas story' did not occur, and rather 'is completely made up.'"
The crowdfunding campaign money was "disbursed and held in accounts that were accessible to D'Amico and McClure, but all three defendants utilized the funds," prosecutors said. The couple "quite rapidly" spent a significant portion of the funds "for their own benefit, including multiple vacations, extensive gambling, a luxury car, expensive designer handbags, and repayment of personal debts to their family members," prosecutors said.
A trailer was also bought "for Bobbitt to live in," which was later sold in June for $10,000, the document said.
The trio was charged with theft by deception and conspiracy to commit theft by deception, prosecutors said.
GOFUNDME SCAM? HOW A HOMELESS MAN, NEW JERSEY COUPLE'S ALLEGED FAKE SOB STORY UNFOLDED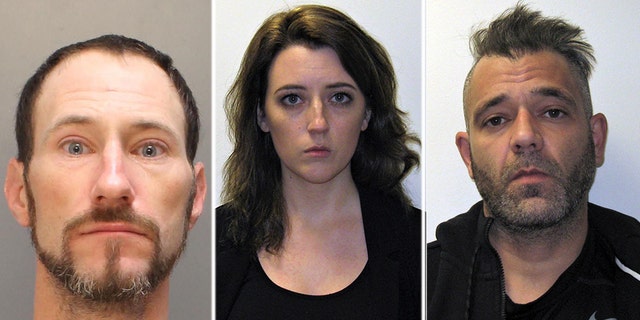 The couple surrendered to law enforcement Wednesday night and were released.
Bobbitt was arrested Wednesday night by U.S. marshals in Philadelphia and remained in custody Thursday on probation detainers and a $50,000 bond.
The investigation landed at the prosecutor's office after Bobbitt claimed he hadn't received the full amount of funds that were raised for him. He later filed a lawsuit against McClure and D'Amico.
All of the money raised through the crowdfunding website will be refunded to those who donated, Coffina said.
Fox News' Nicole Darrah and The Associated Press contributed to this report.