Despite mounting pressure from top Democrats, Acting Attorney General Matt Whitaker sees no reason to recuse himself from overseeing Special Counsel Robert Mueller's Russia investigation, South Carolina Republican Sen. Lindsey Graham said after meeting him Thursday on Capitol Hill.
President Trump last week named Whitaker to replace fired former Attorney General Jeff Sessions, despite — or perhaps because of — his previous writings, including an op-ed in which he argued Mueller was "dangerously close" to exceceding his statutory authority.
"He believed he did not have a reason to recuse himself legally or factually," Graham told Fox News. "Nothing I've seen would require him to be recused. I think he's got the background and the judgment to be able to fulfill this job."
"When it comes to the Mueller investigation, I am very confident he will handle it professionally," Graham continued. "There's a chain of command. There's a regular order in terms of how you deal with special counsels. And I'm sure you will follow regular order, and will do nothing outside of what the law would require."
Graham's comments came as tensions flared in the Senate over Whitaker's appointment. On Wednesday, retiring Arizona Republican Sen. Jeff Flake vowed to pull support for all federal judicial nominees — including 21 pending in the Judiciary Committee and 32 awaiting a vote on the Senate floor — unless the Senate's GOP leadership permits consideration of legislation to expand protections for Special Counsel Robert Mueller's job.
"He believed he did not have a reason to recuse himself legally or factually."

— Sen. Lindsey Graham on Matt Whitaker
Reacting to that dramatic move, Graham — who co-authored the legislation to protect Mueller — said there was no need to rachet up the stakes.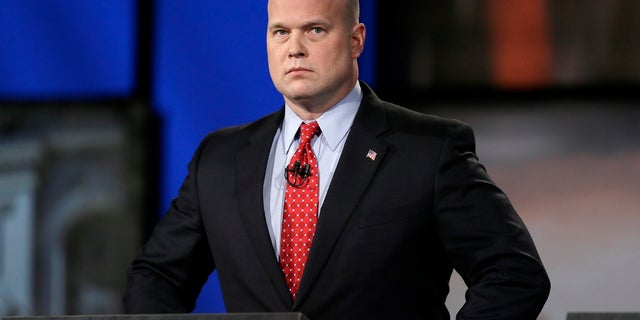 "I do not want to hold judges hostage," Graham said. "Having talked to Mr. Whitaker and the president, I have zero concern that Mr. Mueller's job is in jeopardy."
He added: "I authored the legislation I think it'd be good for the country in perpetuity to make sure that special counsels have some protection. But as to Mr. Mueller, I see no reason to believe that he's going to be dismissed by President Trump or Mr. Whitaker."
FLAKE VOWS TO TORPEDO GOP JUDICIAL NOMINEES UNLESS MUELLER PROTECTIONS ADDED
Whitaker did not reply specifically to Fox News inquiries about whether he felt he should recuse himself.
"It's been an honor and privilege to work with the men and women of the Department of Justice," Whitaker said. "You know in the first week, I've been able to deliver the commission for Justice [Brett] Kavanaugh's investiture, represent the Department of Justice at the Veterans' Ceremony at Arlington Cemetery on Sunday — so I've really been having an enjoyable time, but most importantly we're just going to stick to the mission and keep soldiering forward every day trying to accomplish the mission of the Department of Justice."
Meanwhile, the Justice Department Office of Legal Counsel issued an opinion Wednesday supporting Trump's appointment of Whitaker as acting attorney general.
In its opinion, the Office of Legal Counsel said that the president's appointment of Whitaker to replace Sessions was consistent with the Federal Vacancies Reform Act (VRA) of 1998.
WATCH: FOX NEWS' SENIOR JUDICIAL ANALYST JUDGE NAP BLASTS DOJ DECISION DEFENDING WHITAKER APPOINTMENT
"This Office previously had advised that the President could designate a senior Department of Justice Official, such as Mr. Whitaker as Acting Attorney General," the OLC said, noting that Whitaker has been serving at the Justice Department "at a sufficiently senior pay level for over a year."
But a senior Justice Department official said this week that when reviewing Whitaker's appointment, the OLC had to research back to 1866 to find a similar instance where a non-Senate confirmed individual sat as acting attorney general. The Justice Department wasn't created until 1870, though an attorney general existed prior to that.
The official told Fox News that the issue was "constitutionality" of the appointment.
"What we're talking about here is constitutionality," the official said. "VRA unquestionably gives the president the option to do it."
'EMERGENCY' PROTEST AGAINST SESSIONS' FIRING MAKES ITS WAY TO UNION SQUARE — HIGH ON ENERGY, IRONY
Whitaker previously served as Sessions' chief of staff at the Justice Department. The president requested Sessions' resignation last week, just hours after the polls closed on Election Day. Sessions had been criticized by the president throughout his tenure at the Justice Department due to his decision to recuse himself from the Russia investigation, due to his involvement with the Trump campaign in 2016.
Democrats and 18 state attorneys general have taken issue with Whitaker's appointment, calling for him to recuse himself from overseeing the Russia probe, citing in part his "hostility" to the investigation given his past criticism in the media.
In an op-ed Whitaker wrote last year, he argued that "any investigation into President Trump's finances or the finances of his family would require Mueller to return to Rod Rosenstein for additional authority under Mueller's appointment as special counsel."
"It is time for Rosenstein…to order Mueller to limit the scope of his investigation to the four corners of the order appointing him special counsel," Whitaker wrote. "If he doesn't, then Mueller's investigation will eventually start to look like a political fishing expedition. This would not only be out of character for a respected figure like Mueller, but also could be damaging to the President of the United States and his family—and by extension, to the country."
And separately, in July 2017, Whitaker told CNN, "I could see a scenario where Jeff Sessions is replaced with a recess appointment, and that attorney general doesn't fire Bob Mueller, but he just reduces his budget to so low that his investigation grinds to almost a halt."
Fox News' Brooke Singman, Jason Donner,  and Jake Gibson contributed to this report.