The armed security guard fatally shot by a police officer early Sunday morning in Robbins, Illinois, was given "multiple verbal commands" to drop his gun and get on the ground before the officer fired, witnesses said,
according to Illinois State Police.
A little after 4 a.m. Sunday, police in Robbins called for assistance from additional area police departments as it responded to a call about a shooting at Manny's Blue Room Bar, according to Midlothian police.
Midlothian police said two of its officers went to the bar to help Robbins police. When officers arrived, Midlothian police said, they learned there were several gunshot victims inside the bar.
A Midlothian police officer encountered Jemel Roberson, 26, of Chicago, a security guard at the bar, authorities said. He was in a parking lot outside the bar, trying to subdue a suspect in the shootings, witnesses told Illinois State Police investigators.
In its report released Tuesday, Illinois State Police, which is handling the police shooting, said Roberson was dressed "in plain black clothing with no markings readily identifying him as a security guard."
The officer shot Roberson, who was later pronounced dead at a hospital, Midlothian Police Chief Daniel Delaney said in a statement released hours after the shooting.
However, Greg Kulis, an attorney for the Roberson family, told ABC News Tuesday that witnesses had told him people saw the officer raising his weapon toward Roberson and had yelled "He's security! Don't shoot! He's security!"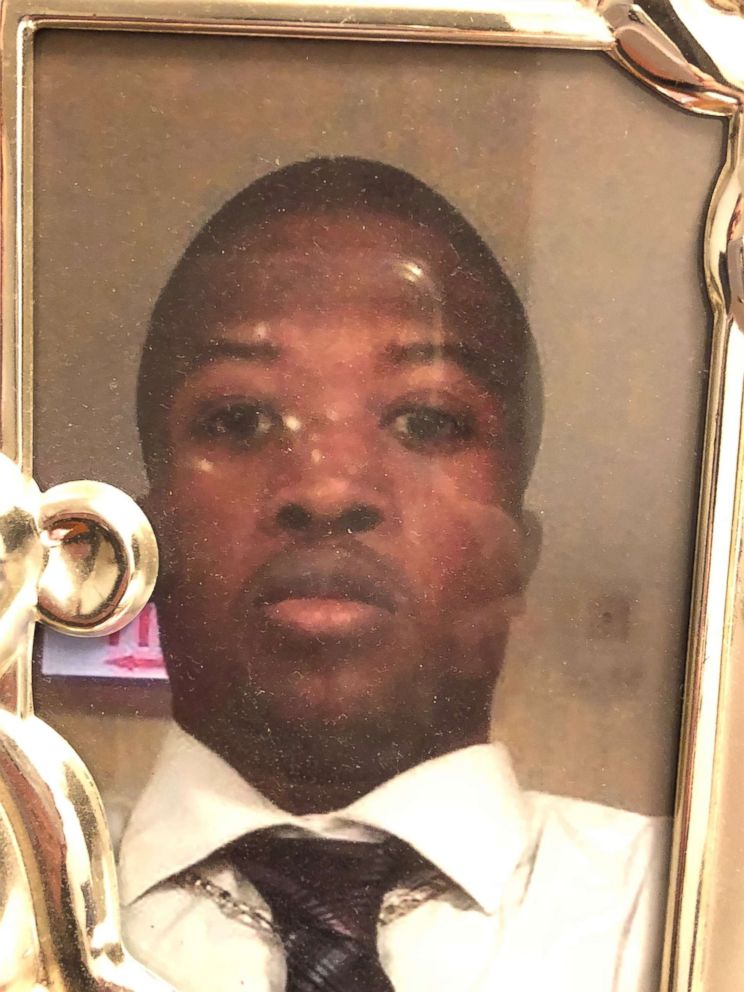 The police officer was placed on administrative leave but has not yet been publicly identified.
"Our hearts go out to Jemel and his family and we are devastated by this incident," Delaney told ABC News on Tuesday. "We have learned a lot about Jemel over the last two days and he was [a] great man that was doing his best to stop an active shooter that evening."
At a news conference Midlothian Wednesday, an attorney for Roberson estate called for the officer to be immediately fired.
"We believe this officer's behavior was so egregious that he should be terminated," lawyer Lee Merritt said.
Merritt also called for the officer to be named and identified so that the public can learn whether that officer "has a history or reputation of brutality."
The attorney, who represents Roberon's heirs, including his 9-month old son, Tristan, and Tristan's mother, Avontea Boose, also revealed that Boose is pregnant with Roberson's second child.
Like Kulis, Merritt cited witnesses who contradicted Tuesday's statement from Illinois State Police. Merritt said witnesses claimed that Roberson was wearing a shirt, hat and vest that said "security."
"Jemel had every reason and every justification to use deadly force against the suspect he apprehended. … He decided that he could apprehend him, he could subdue him without killing him and he made a decision to. That's the least we could ask of the police department. From the Midlothian or other departments around the country," Merritt said Wednesday.
Kulis has filed a wrongful-death civil lawsuit against the as yet unidentified officer and the village of Midlothian.
Merritt said he is filing a civil rights lawsuit in the case. Boose was expected to make remarks Wednesday.
At least four other people were shot and wounded in the bar incident, the Cook County Sheriff's Office said.
"He had somebody on the ground, with his knee in his back, with his gun on him, like 'Don't move,'" Adam Harris told a CBS affiliate. "Everybody was screaming out 'Security!' He was a security guard."
Roberson was an organist at local churches, WLS-TV said.
The Illinois State Police Public Integrity Task Force continues to investigate the police shooting, which is the Midlothian Police Department's policy, according to Delaney.
The Cook County Sheriff's Police and Robbins Police Department are investigating the "criminal aspect," Delaney said.
During a news conference Wednesday, pastors called for the police officer who shot Roberson to resign immediately and Kim Foxx, Cook County's state attorney, to investigate the shooting.
"Too many times in the southern suburbs, homicides take place and they're swept under the rug. We won't allow this to be swept under the rug," Pastor Anthony Williams said.
ABC News' Will Gretzky, Andy Fies and Susan Schwartz contributed to the reporting in this story.