House Republicans have selected House Majority Leader Kevin McCarthy to serve as minority leader in the next Congress, choosing the California Republican who was a key architect of the 2010 GOP wave.
Interested in
Republican Party?
Add Republican Party as an interest to stay up to date on the latest Republican Party news, video, and analysis from ABC News.
McCarthy defeated Rep. Jim Jordan, R-Ohio, in the two-way race during a closed-door vote Wednesday afternoon.
Jordan, a pugnacious conservative and former Division I college wrestling champion, ran against McCarthy -– and the current slate of GOP leaders. Jordan called for House Republicans to fight with the same "intensity" as President Donald Trump on his priorities. He's a frequent guest on Fox News who has vigorously defended the president and raised questions about the legitimacy of special counsel Robert Mueller's investigation into Russian meddling during the 2016 election.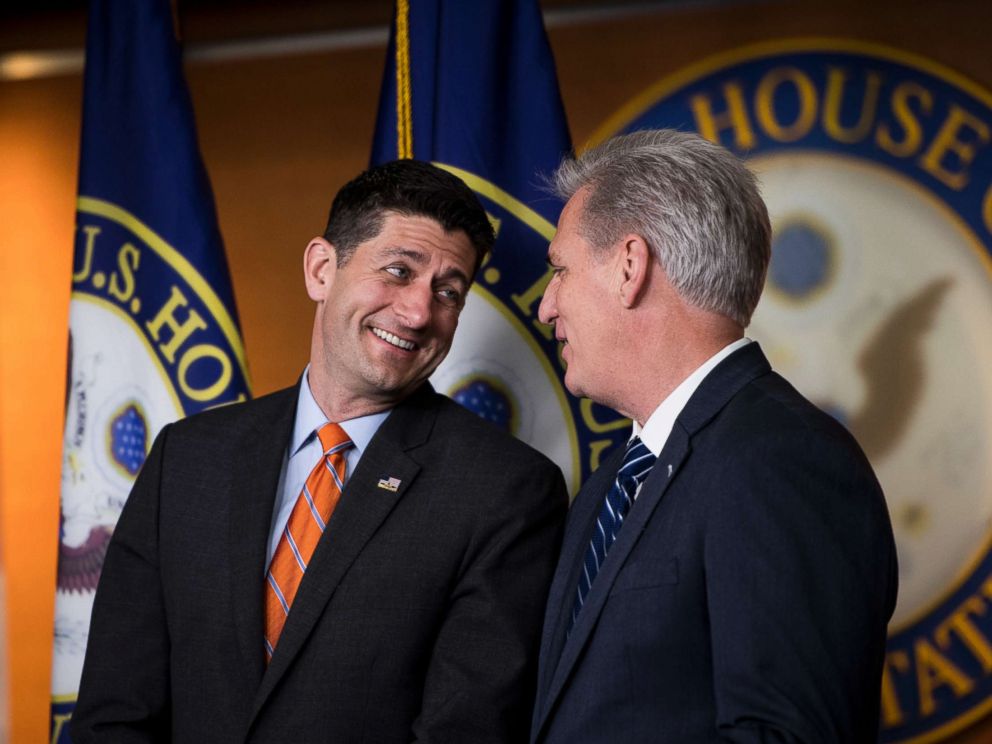 "He's been at the forefront of the fight throughout these last two years, when quite honestly, the rest of the folks around this place weren't interested," Rep. Scott Perry, R-PA, a Jordan ally, told ABC News.
But the founder of the House Freedom Caucus, the band of hard-right insurgents who ousted former Speaker John Boehner and generally made life very difficult for Republicans in the majority, doesn't have much support outside the group.
In McCarthy, Republicans have boosted one of the party's strongest fundraisers and campaign strategists to replace retiring House Speaker Paul Ryan, who also has an encyclopedic knowledge of Republican members' families and districts.
McCarthy raised more than $60 million for Republicans this midterm cycle, more than any majority leader in history, and campaigned with 75 members of Congress and 22 candidates across 46 states, according to his staff.
Along with Paul Ryan and former House Majority Leader Eric Cantor, McCarthy was one of the party's "Young Guns," poised to be the next generation of GOP leadership on Capitol Hill.
While his 2015 run to replace Boehner was derailed by opposition from conservatives, McCarthy benefited Wednesday from the fact that he only needed a simple majority of House Republicans' support, and not 218 votes on the House floor.
He was also one of Trump's earliest supporters on Capitol Hill, advising him quietly through the general election in 2016 and developing a closer bond with the businessman-turned-president in Washington. He served as a guide through the intricacies of Washington policy-making, and, on one occasion, as a supplier of his favorite Starburst candies. Trump has referred to him as "my Kevin."
"He has the energy and ideas and the will to go out there and be successful," Rep. Brian Mast, R-Florida, a McCarthy supporter, told ABC News.
Jordan is favored to win a post as the ranking member of the House Judiciary Committee, putting him a key position to defend the president in any of the committee Democrats' planned investigations in the next Congress.
Majority Whip Steve Scalise, R-Louisiana, was also selected to serve as minority whip in the next Congress, while Rep. Liz Cheney, R-Wyoming, was expected to become the conference chair and top-ranked female Republican in the House.