An Ohio family of four, charged Tuesday in the execution-style slayings of eight people in 2016, relocated to Alaska about a year after the murders, living a quiet life — even as officials continued to eye them as suspects in the slaughter.
The four members of the Wagner family indicted on aggravated murder charges could be sentenced to death if convicted in the Rhoden family murders, Ohio Attorney General and Governor-elect Mike DeWine announced during a Tuesday news conference. The quartet — George "Billy" Wagner III, 47; his wife, 48-year-old Angela Wagner; and George's sons, George Wagner, 27, and Edward "Jake" Wagner, 26 — spent "some significant time in Alaska" in the two years before their arrest, officials said.
"I just might tell you this is just the most bizarre story I've ever seen in being involved in law enforcement," DeWine said.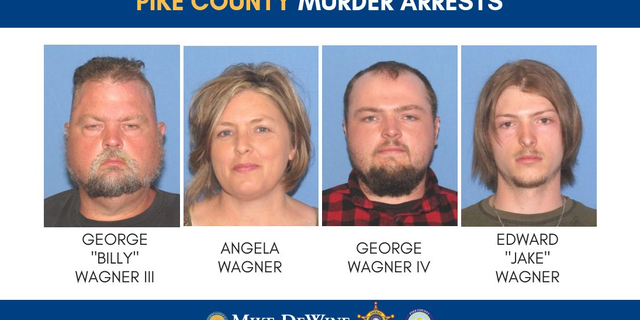 In June 2017, a little over a year after the April 2016 killings that garnered national attention, the Wagners moved to Kenai, Alaska, about three hours southwest of Anchorage. A real estate listing for the home in Kenai highlights the property's "big backyard" and the amount of "privacy" enjoyed by tenants, according to the Anchorage Daily News.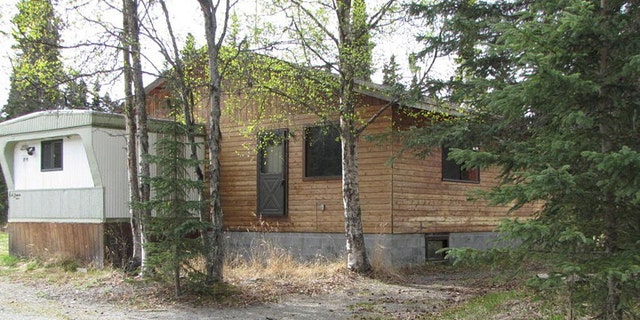 RHODEN FAMILY MURDERS HAVE LINK TO CUSTODY DISPUTE, OHIO AG SAYS
Brad Conklin, a neighbor of the Wagner family, told KTUU he had casual conversations with the family, once warning them about possible wildlife dangers in the area.
"Monday morning, I drove by, I seen them putting out kids toys. And that's when I'm gonna let them know that we do have bears in this area," Conklin told the television station. "And to watch their kids. And I just struck up a conversation with them saying 'Hi, welcome to the neighborhood.' No big deal"
In a separate interview with KTVA, Conklin said the Wagners "pretty much kept to themselves" before moving back to Ohio in May.
"[It's] a crazy world we live in today," Conklin said.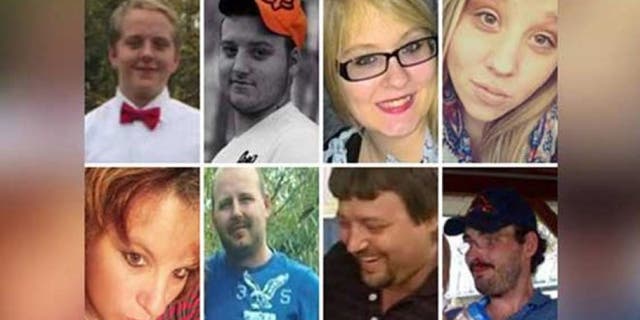 At the time of the Alaska move, Jake Wagner told the Cincinnati Enquirer the family was leaving due to rampant speculation they played a role in the Rhoden deaths. Wagner also said he wanted a better life for his daughter — whose mother was one of the victims of the massacre.
RHODEN FAMILY EXECUTION-STYLE MURDERS: 4 FAMILY MEMBERS ARRESTED IN 2016 OHIO KILLINGS
"Really the point to moving up here was to basically get into a better environment so they wouldn't talk about us. Sophia is getting older, so she wouldn't hear it," he said in July 2017. "And then it followed us here."
A pastor at the Resurrection Bay Baptist Church in Seward, Alaska told the Dayton Daily News in 2017 the Wagners were planning to move to Alaska for over a decade and had come up multiple times to visit and fish.
"They're just good country people," Kelly Cinereski told the paper at the time, adding none of the family members had talked to him about the killings.
Alaska Sen. Peter Micciche, who represents the area, told KTUU police told him there were "no issues" involving the Wagners when they were living in Alaska. Micciche added his concern was the family thought of the area as a place to lay low while the investigation in Ohio was ongoing. He said news of the arrests had brought relief to some of his constituents.
"You saw some reactions, you know, 'finally! They were arrested,'" he told the television station. "I think generally there's some relief, although I think folks knew they were no longer in town. It's comforting to know they won't be coming back."
The Wagners are believed to have thoroughly planned out the murders, authorities said. DeWine said the family "conspired together to kill eight victims under the cover of darkness, and then covered their tracks." A motive for the mass murder has not yet been revealed.
The victims were identified as: 40-year-old Christopher Rhoden; his ex-wife, 37-year-old Dana Rhoden; their three children, 20-year-old Clarence "Frankie" Rhoden, 16-year-old Christopher Jr., and 19-year-old Hanna; Frankie Rhoden's fiancée, 20-year-old Hannah Gilley; Christopher Rhoden Sr.'s brother, 44-year-old Kenneth Rhoden; and a cousin, 38-year-old Gary Rhoden. Hanna Rhoden's newborn child, another baby and a young child were left unharmed.
Two other people — Billy Wagner's mother, Fredericka, and Angela Wagner's mother, Rita Newcomb — were also arrested in connection with the case after investigators said the pair aided in the cover-up and misled authorities. DeWine said there is "absolutely no evidence" that anyone else was involved.
Fox News' Nicole Darrah and The Associated Press contributed to this report.