U.S. Health and Human Services Secretary Alex Azar on Wednesday declared a public health emergency in California, where at least 50 people have died from multiple wildfires ravaging the state.
Interested in
California Wildfires?
Add California Wildfires as an interest to stay up to date on the latest California Wildfires news, video, and analysis from ABC News.
"We are working closely with state health authorities and monitoring the needs of healthcare facilities to provide whatever they may need to save lives and protect health," Azar said in a statement. "This declaration will help ensure that Americans who are threatened by these dangerous wildfires and who rely on Medicare, Medicaid and the Children's Health Insurance Program have continuous access to the care they need."
Two massive blazes burning at opposite ends of the state have forced the evacuation of at least two hospitals and eight other health care facilities. A smoke advisory was issued for portions of Los Angeles County amid concerns that smoke from the fires could present a "significant health threat" for people with asthma and other lung conditions, according to the U.S. Department of Health and Human Services.
Thousands of exhausted firefighters battling the Camp Fire in Northern California and the Woolsey Fire in Southern California appeared to be getting a handle on the two massive blazes. But authorities continued to find more bodies amid the scorched destruction.
At least 50 people have been found dead from the fires, which have laid waste to more than 9,000 structures, according to the California Department of Forestry and Fire Protection.
Meanwhile, officials have warned of howling winds that could spawn more monster blazes with the slightest spark.
There's a new extreme fire danger in San Diego County, where ferocious wind gusts of up to 86 mph were recorded early Tuesday morning and could hit 100 mph by the end of the day, according to the National Weather Service.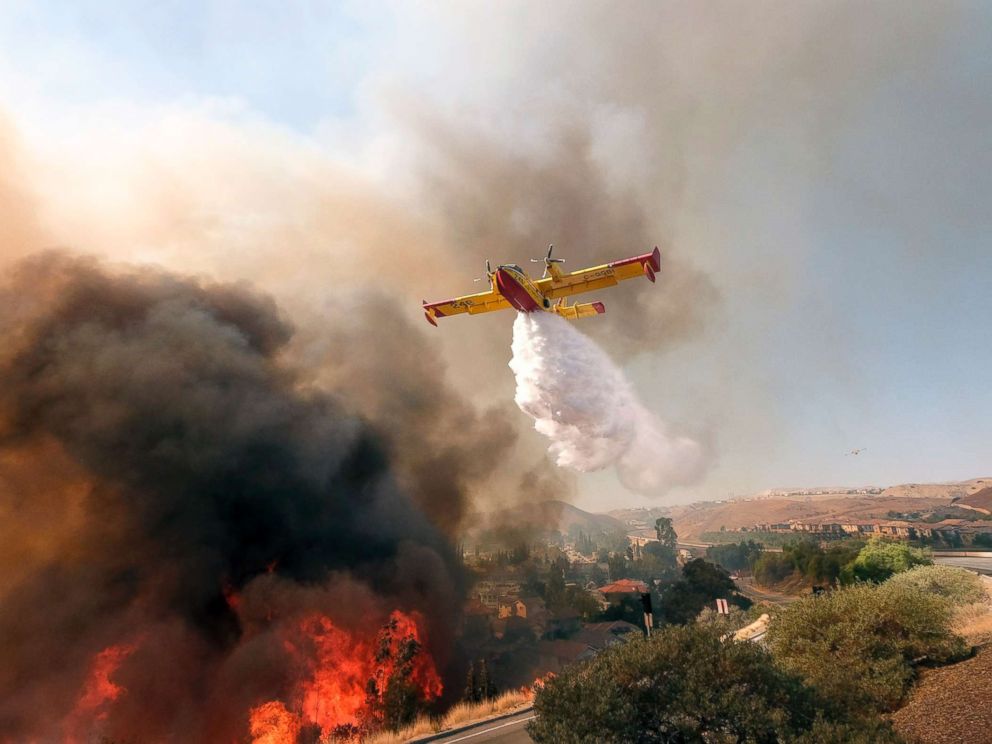 The blustery condition prompted red flag warnings for the San Diego area, signaling extreme fire danger through at least Wednesday, officials said.
Some schools in San Diego County were closed Tuesday, and San Diego Gas & Electric took the precautionary measure of shutting off electricity in some fire-prone areas of the county to avoid new blazes, officials said.
Firefighters, with the help of out-of-state fire crews, were showing progress in their twin battles to subdue the widely-destructive blazes that have blackened a combined acreage larger than the size of New York City.
Camp Fire
The Camp Fire ignited Nov. 8 in Pulga, a tiny community in Northern California's Butte County nestled in the Plumas National Forest. The blaze had burned 130,000 acres of the bucolic landscape by Tuesday night, according to the California Department of Forestry and Fire Protection.
The Butte County Sheriff's Office announced Monday night that 13 additional people were confirmed dead from the blaze. Ten of the bodies were located in the city of Paradise, which was nearly completely destroyed by the blaze. Seven of those people were found in their burned homes.
The death toll from the Camp Fire now stands at 48, making it the deadliest single blaze in California's recorded history.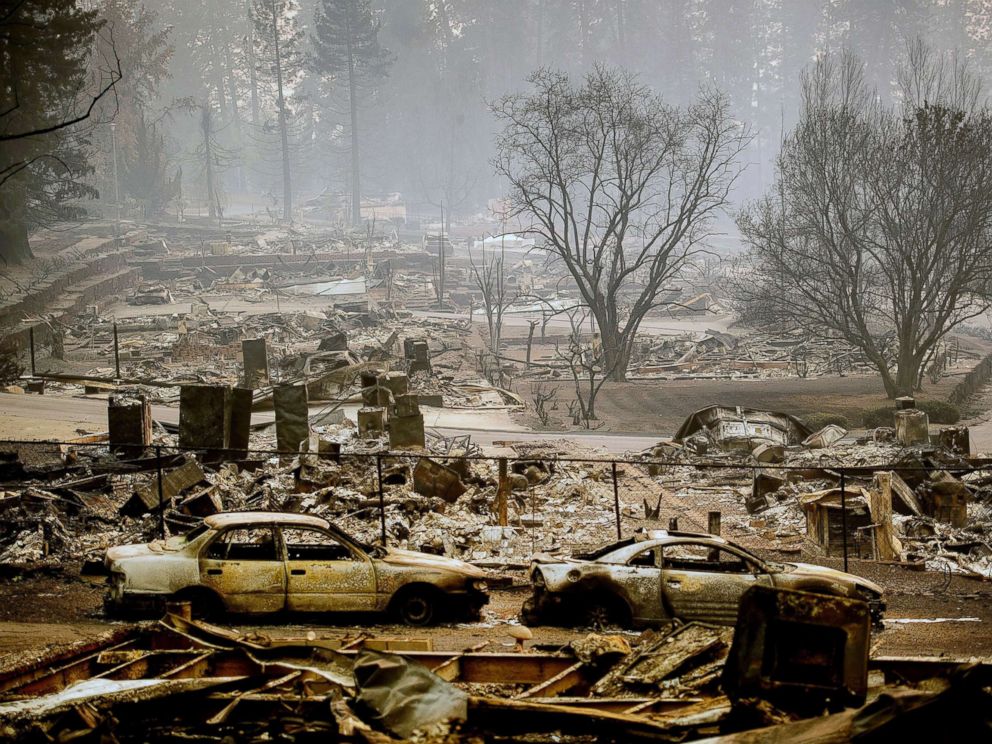 There were more than 100 people missing in the Butte County fire zones, though officials were working to track them down. The Butte County Sheriff's Office has received 1,513 calls for welfare checks and authorities had located 231 people safely by Monday night, officials said.
The fire left widespread catastrophic damage in the area, according to the California Department of Forestry and Fire Protection.
Two prison inmate firefighters were among three injured battling the Camp Fire, fire officials told ABC News.
The blaze was 35 percent contained as of Tuesday night.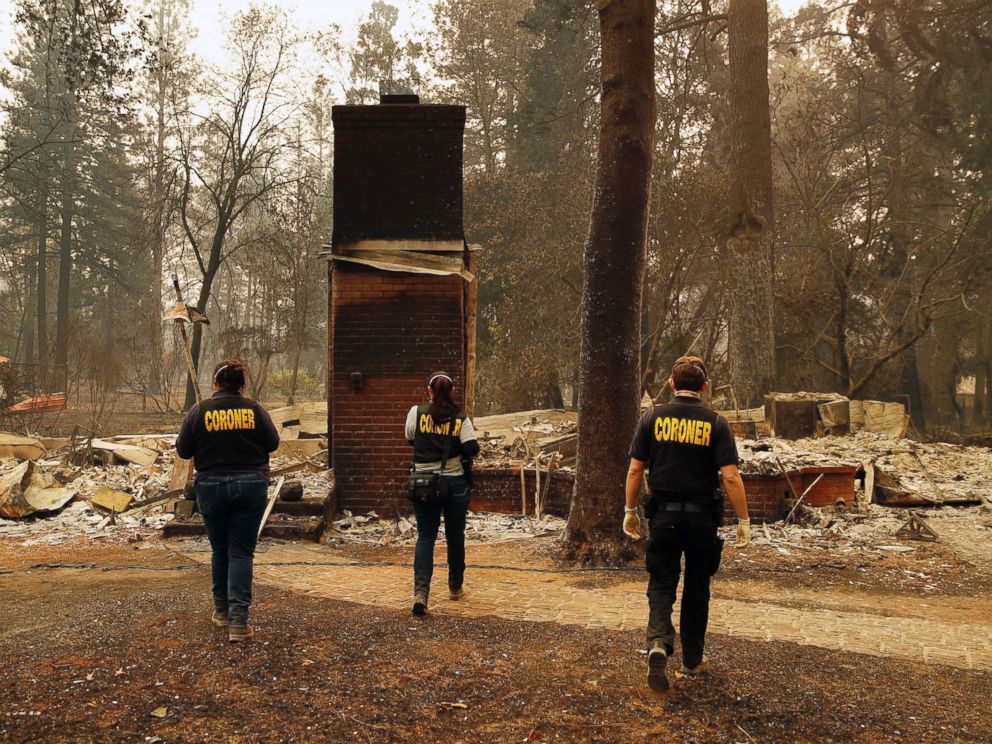 "The entire community of Paradise is a toxic wasteland right now," Paradise City Council Member Melissa Schuster, who lost her home in the calamity, told ABC News' "The Start" podcast. "In addition to that, and this is the hardest part for me to even talk about, is the number of fatalities is [among] things that we don't know at this moment and that's something that has to be determined before people can move back in."
Schuster said teams from the Butte County coroner's office are combing through thousands of destroyed homes and burned cars in Paradise, a town of about 30,000 people.
"We will rebuild our homes, we will rebuild our town stronger, better, safer and more beautiful than ever," she told ABC News' "The Start" podcast.
Woolsey Fire
The Woolsey Fire, which also started on Nov. 8, ignited near Simi Valley in Northern California's Ventura County. The flames have since spread south to Los Angeles County and have burned a total of 97,114 acres by Tuesday night, according to the California Department of Forestry and Fire Protection.
At least 435 structures, including many homes, have been destroyed by the blaze, which swept through the celebrity enclaves of Malibu and Calabasas.
The fire killed two people in Malibu, where the entire city has been under a mandatory evacuation order, officials said.
The blaze was 40 percent contained as of Tuesday night, as firefighters successfully stretched containment lines. But crews were dealing with a flare-up Tuesday in the Lake Sherwood and Hidden Valley areas of Ventura County that was threatening to take off in the windy weather and sending a huge plume of smoke over the region.
"We are not out of the woods yet. We still have tough conditions," Ventura County Fire Chief Mark Lorenzen told reporters at a news conference Tuesday afternoon.
The flare-up broke out Tuesday morning in a canyon that had not previously burned and flames were being pushed up a ridge away from populated areas, according to Lorenzen.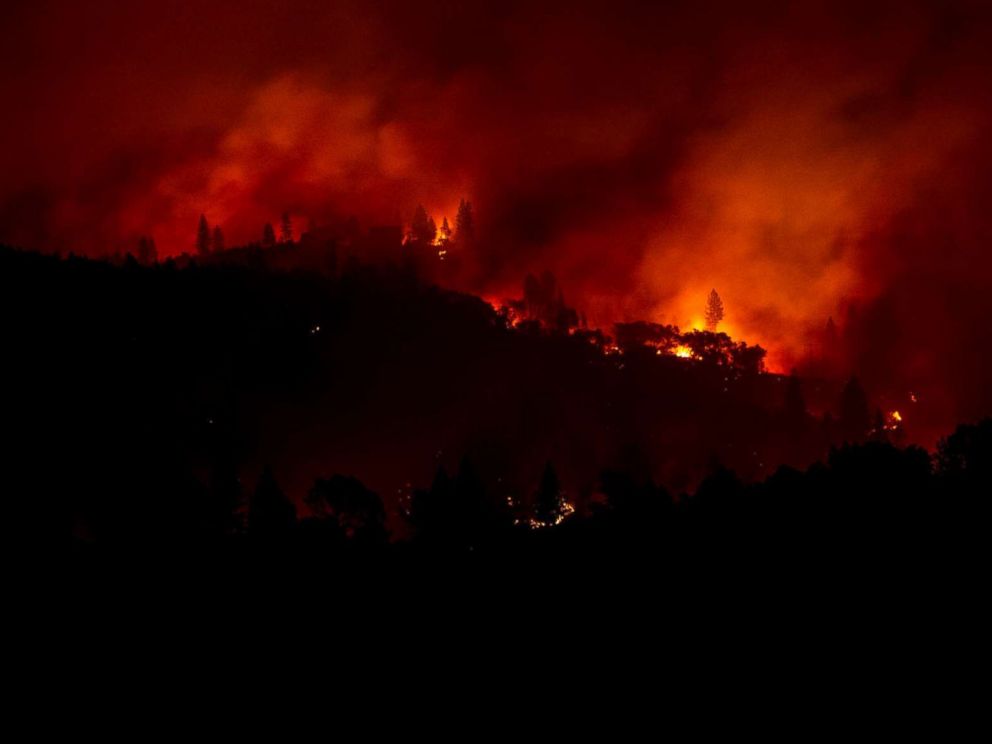 Los Angeles County Fire Chief Daryl Osby said the Woolsey Fire, which has spread to an area about the size of Denver over Ventura and Los Angeles counties, was the largest his department has battled in 100 years.
Despite Tuesday's flare-up, Osby said, "We are getting the upper hand" on the blaze.
Another wildfire in the area, the Hill Fire, was 92 percent contained by Tuesday night after burning 4,531 acres in Ventura County, according to the California Department of Forestry and Fire Protection.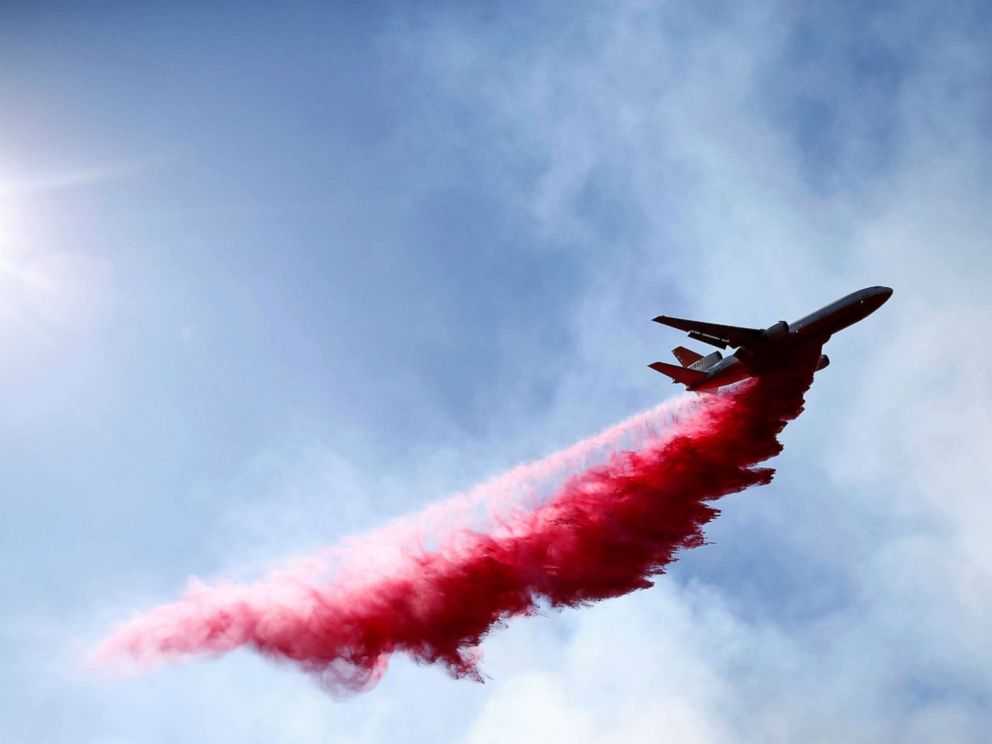 Even as firefighters battled the wind-whipped fires in Southern California, two new fires broke out Monday afternoon on the Los Angeles-Venture County border and sent crews scrambling to fight them. Attacking fires from the ground and air, firefighters were able to quickly smother both blazes.
The largest of the two new blazes sparked up near a densely populated neighborhood in Simi Valley, grew to 105 acres and prompted the closure of Highway 118 in both directions for more than an hour.
"It just hits home that we are still in significant fire weather and the existing fire is not our only concern," Lorenzen, Ventura County's fire chief, said at a news conference Monday afternoon.
More than 227,000 acres burned in California
The California wildfires, as shown in the map below, have burned a total of 227,114 acres across the Golden State, and there was no sign that the weather would cooperate anytime soon.
There is no rain in the forecast for the Northern and Southern California in the fire zones through Thanksgiving, National Weather Service meteorologist Aviva Braun told reporters Monday night.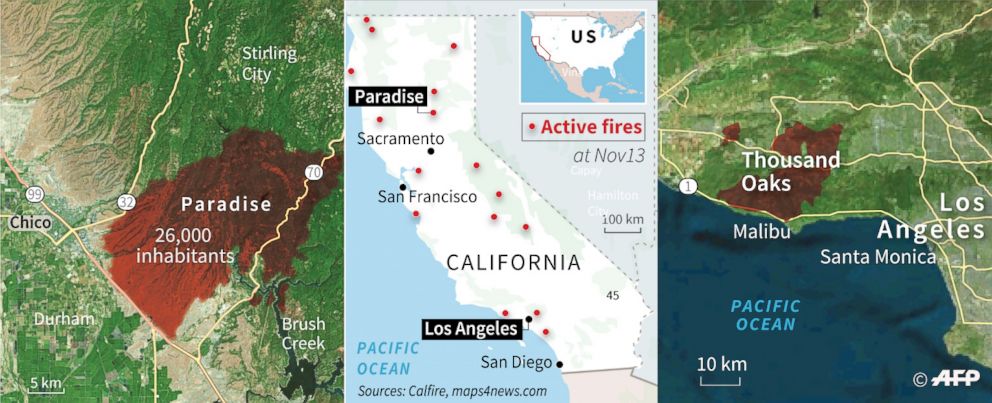 Dry and near-critical conditions are expected to continue through Wednesday as breezy, northwest winds kick up.
The monstrous fires were threatening to destroy up to 57,000 more structures in Southern California and another 15,500 in Northern California as blustery winds are expected to deal firefighters a menacing challenge throughout the state over the next two days, according to the California Department of Forestry and Fire Protection.
149,000 evacuated
More than 149,000 people throughout California have evacuated as a result of the fires, outgoing California Gov. Jerry Brown told reporters over the weekend.
Batallion Chief Lucas Spellman of the California Department of Forestry and Fire Protection said Monday on ABC's "Good Morning America" that fires were being fueled by an abundance of vegetation that grew during a spike in precipitation last year only to wither during a new dry spell that has hit the state.
"So, it's just a recipe for destruction," Spellman said.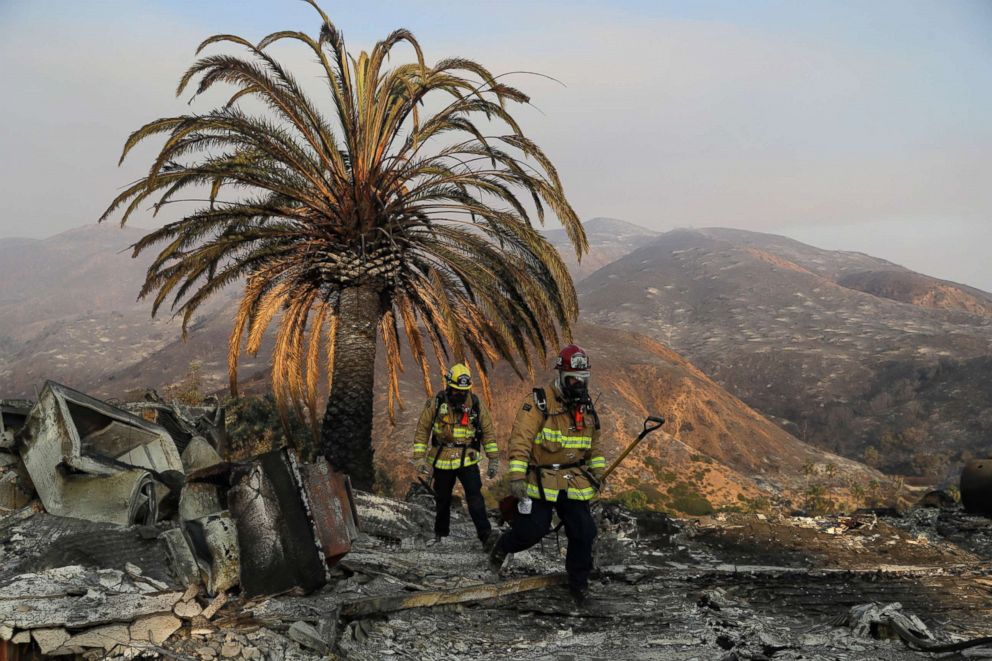 California Gov. Jerry Brown on devastating wildfires raging across the state: "This is not the new normal, this is the new abnormal."

"Unfortunately, the best science is telling us that dryness, warmth, drought, all those things, they're gonna intensify." https://t.co/ZIGpn8tOn8 pic.twitter.com/EkzVvJBjlW

— ABC News (@ABC) November 12, 2018
Officials are warning evacuees eager to return home to stay away, emphasizing that many of the damaged areas are still not safe.
But on Tuesday, the Los Angeles County Sheriff's Department was allowing some residents who evacuated in the Woolsey fire to return home, including reopening the entire city of Hidden Hills and parts of Calabasas, West Lake Village, and Agoura Hills.
Harrowing escape
Nichole Jolly, a nurse at Feather River Hospital in Paradise, said she was nearly killed twice Thursday by the Camp Fire after helping to evacuate critically sick patients.
"I called my husband and I just said, 'I don't think I'm gonna make it out of this. It's coming in too fast, I don't even know where to go,'" Jolly told ABC News.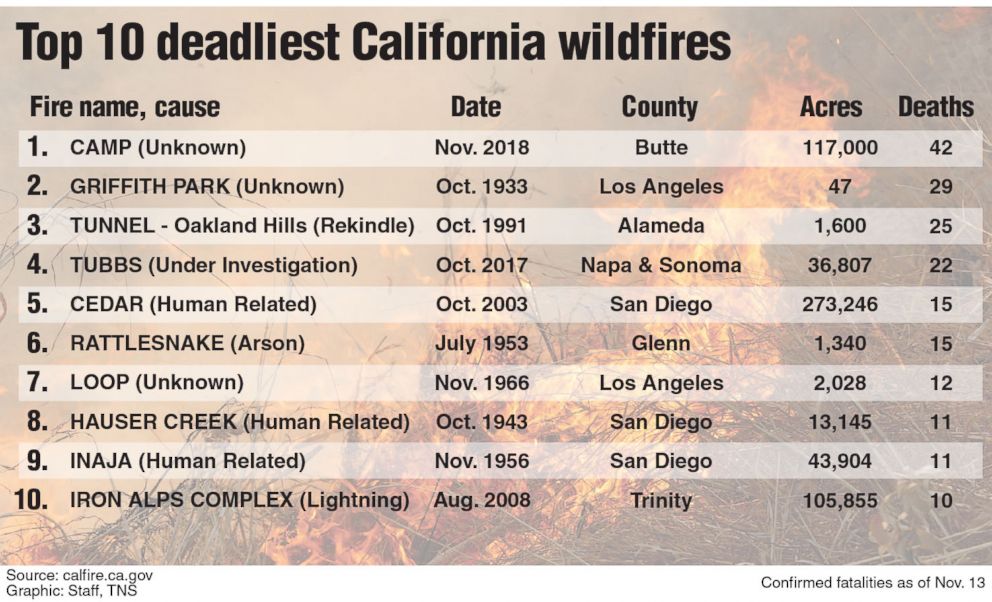 She said she tried to drive out of the harm's way only to have her car fill up with smoke and get rear-ended by another panicked driver.
"I knew I was gonna die if I stayed in my car," she said, so she jumped out and ran.
She said her pants were on fire by the time she was rescued by two firefighters.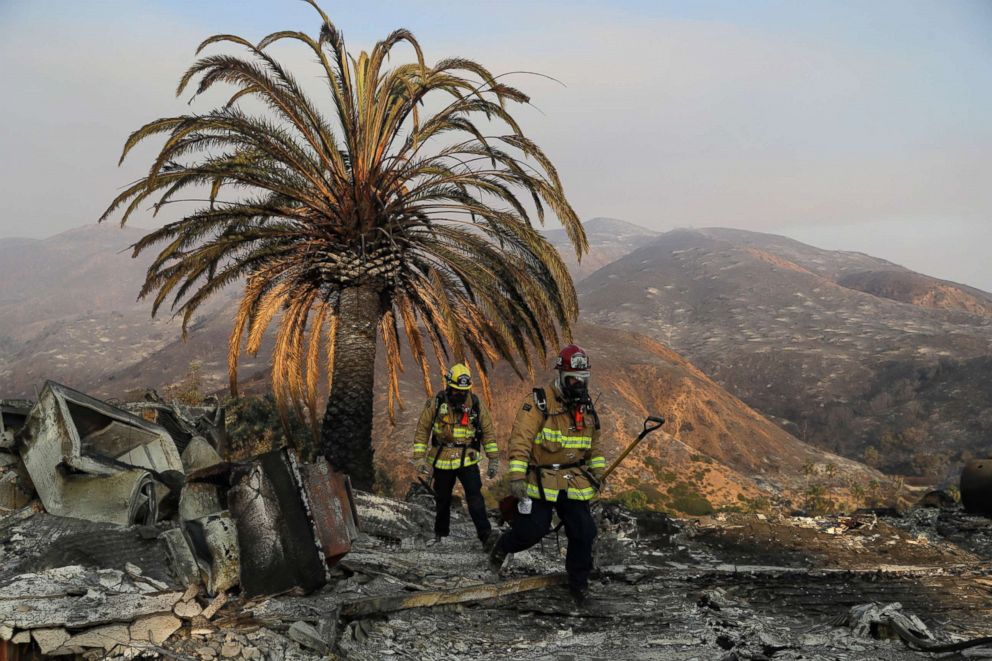 "Everybody I know lost everything.
Paradise resident Brad Weldon told ABC News that his home was one of four still standing on a mile-and-a-half stretch in his neighborhood.
Weldon woke up Thursday morning to fire reports in Pulga — about a 30-mile drive east of Paradise — but stayed at his home with his 90-year-old mother, Norma Weldon, who is blind and refused to leave.
Once Weldon noticed that the fire was coming toward his home with 60 mph winds, he witnessed a firenado change the course of the blaze.
"And a fire tornado, like a big firestorm, started right up there, and it kind of turned the fire away from us," he said. "I believe that was the angels."
When asked what was left of the town of Paradise, Weldon replied, "Nothing."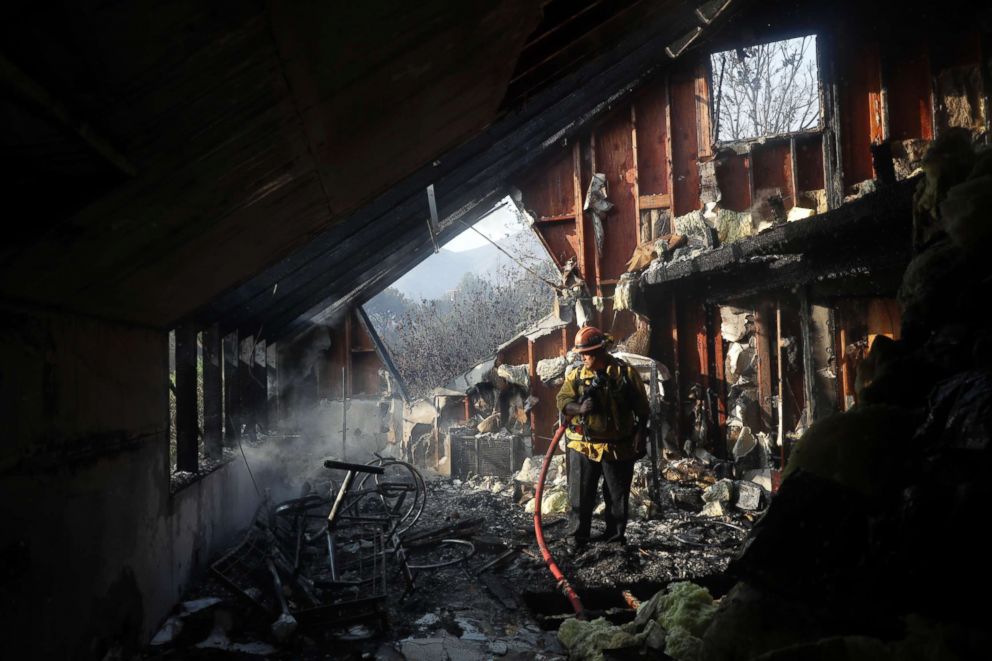 "It's gone," he said, holding back tears. "Everybody I know lost everything. It's real sad."
The governor-elect of California, Gavin Newsom, has issued an emergency proclamation for Butte County due to the Camp Fire.
On Sunday, Gov. Brown requested that President Donald Trump issue a Major Disaster Declaration to bolster the ongoing emergency response and aid residents in their recovery from devastating fires throughout the state.
"We have the best firefighters and first responders in the country working in some of the most difficult conditions imaginable," Brown said in a statement Sunday. "We're putting everything we've got into the fight against these fires and this request ensures communities on the front lines get additional federal aid. To those who have lost friends and family members, homes and businesses, know that the entire state is with you. As Californians, we are strong and resilient, and together we will recover."
Late on Friday, Trump declared a state of emergency for California, freeing up federal resources to supplement local response efforts. The declaration allows the U.S. Department of Homeland Security and the Federal Emergency Management Agency to coordinate disaster relief efforts to help alleviate the hardship and suffering caused by the emergency on the local population, provide support for emergency measures and free up federal resources.
But on Saturday morning, Trump threatened to pull federal funding for California wildfires if the state didn't "remedy" its poor "forest management."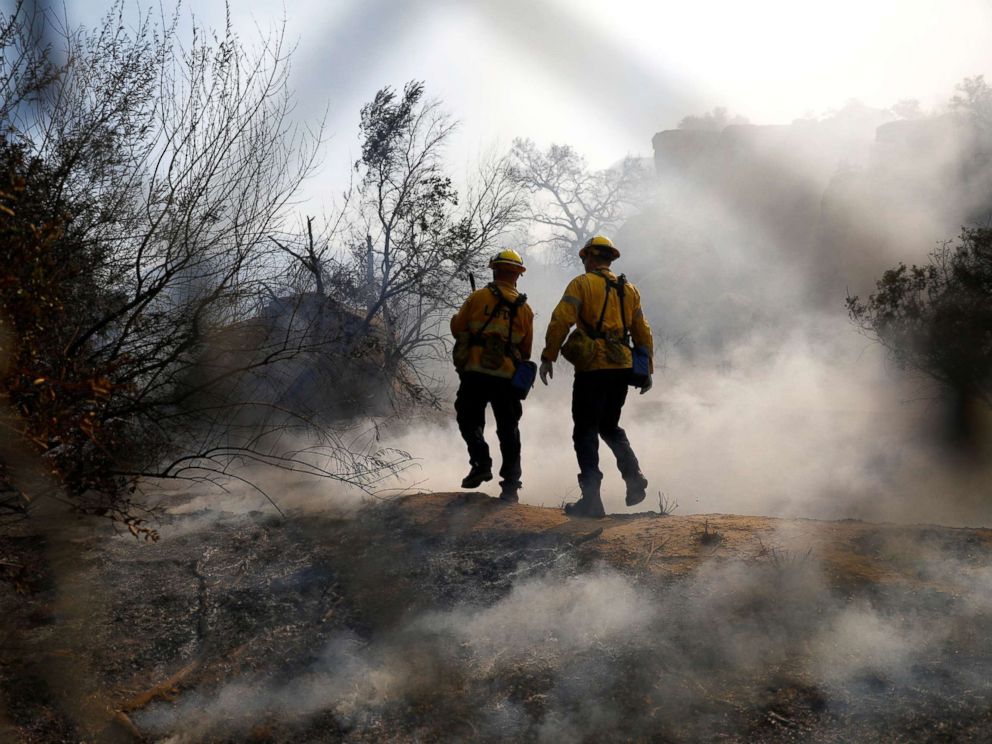 "Our focus is on the Californians impacted by these fires and the first responders and firefighters working around the clock to save lives and property — not on the president's inane and uninformed tweets," Brown's press secretary, Evan Westrup, told ABC News on Sunday.
Brian Rice, president of California Professional Firefighters, called Trump's threat to slash funds for battling California wildfires "ill-informed, ill-timed, demeaning to those who are suffering as well as the men and women on the front lines."
Rice said Trump's assertion that California's forest management policies are to blame for the catastrophic wildfires is "dangerously wrong."
"Wildfires are sparked and spread not only in forested areas but in populated areas and open fields fueled by parched vegetation, high winds, low humidity and geography," Rice said.
On Monday, Trump approved an emergency request for a major disaster declaration in Butte, Los Angeles and Ventura Counties.
ABC News' Karma Allen, Brandon Baur, Will Carr, Stacy Chen, Matthew Fuhrman, Bonnie Mclean and Daniel Peck contributed to this report